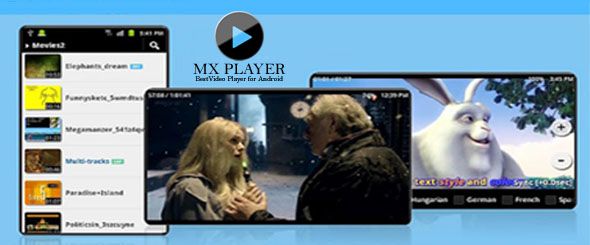 MX Player 1.7.12 APK Android
Update Date 2014
MX Player – The best way to enjoy your movies.
a) HARDWARE ACCELERATION – Hardware acceleration can be applied to more videos with the help of new H/W decoder.
b) MULTI-CORE DECODING – MX Player is the first Android video player which supports multi-core decoding. Test result proved that dual-core device's performance is better up to 70% than that of single-core devices.
c) PINCH TO ZOOM – Easily zoom in and out by pinching and swiping across the screen.
d) SUBTITLE SCROLL – Subtitles can be scrolled to move back and forth faster.
e) KIDS LOCK – Keep your kids entertained without having to worry about them making calls or touching other apps. (plugin required)
f) ANDROID 4.2 – Fully supports Android 4.2 Jelly Bean MR1.
Subtitle formats:
- DVD, DVB, SSA/*** Subtitle tracks.
- SubStation Alpha(.ssa/.***) with full styling.
- SAMI(.smi/.sami) with ruby tag support.
- SubRip(.srt)
- MicroDVD(.sub/.txt)
- SubViewer2.0(.sub)
- MPL2(.mpl/.txt)
- PowerDivX(.psb/.txt)
- TMPlayer(.txt)
About "System Tools – display system-level alerts" permission: This is useful to block any accidental key entries while you are watching videos. This input block function will make sure that you can watch videos without interruption.
What's new in MX Player 1.7.12



Added screen rotation button.
Added a new orientation option named "use video orientation". This will select screen orientation from video orientation.
Added https protocol support on s/w decoder.
Added an optional to disable double tap gesture.
Improved h/w+ decoder.
Fixed broken h/w+ decoder on Android 3.x Honeycomb and some Snapdragon ICS, Jellybean devices.
Download